Institutional Grade Investment Management
for Digital Assets

Magnet Capital is a crypto-native digital asset investment manager, providing institutional investors with tailored exposure to a groundbreaking new asset class.

Launched in 2017, Magnet Capital has a track record of over 5 years of market outperformance, driven by our ability to capitalise on the unique challenges and opportunities inherent within the digital asset ecosystem.
Opportunity
Blockchain technology has catalysed a new era of innovation centred around decentralised and digitally verifiable asset ownership. This has resulted in an unprecedented investment opportunity to capitalise on protocols and applications harnessing blockchain's potential.
Disruption
The infrastructure for a highly disruptive technology stack, enabling the elimination of inefficient, centralised intermediaries through decentralised ownership verification.
Innovation
By eliminating the constraints associated with centralisation; innovative mechanisms and new novel business models are able to be developed and scaled rapidly.
Growth
Directly connecting users to value and bypassing unecessary gatekeepers and rent seekers. Unlocking potentially trillions of dollars of assets into a more efficient architecture.
Who is Magnet Capital?
Magnet Capital is a specialist digital asset investment manager. At our core, we are long-term, thesis driven investors in the crypto ecosystem. We believe that digital asset innovation will fundamentally disrupt major, global industries, and create outsized investment opportunities for early participants.

Magnet has developed a variety of investment products to provide sophisticated investors opportunities to build exposure to digital assets in a way that meets their investment objectives.
Experience
5-year track record of institutional digital asset funds management and protocol investment management (inc. staking and node running)
Crypto Native
Deep integration into the crypto asset investment community to unearth private investment opportunities
Thesis Driven
Long term and high conviction investment strategy grounded in thesis driven sector identification and fundamental analysis
Education
Open thought leadership to provide transparency into our investment decisions and provide you with the tools to learn
Performance
A proven track-record of market and peer outperformance over the 5 year life of our fund
Security
Best practice security for key management, custody, trading and staking
Multi-Asset

---
Multi-asset, actively managed, long-only strategy

Concentrated portfolio of our highest-conviction digital asset investments
---
Established: November 2017
Minimum investment: $50,000
Unit issuance: Monthly
---
Bitcoin Only

---
Passive exposure
to Bitcoin


Physically settled


---
Established: November 2020
Minimum investment: $50,000
Unit issuance: Daily
---
Ethereum Only

---
Passive exposure to
Ether, with native staking yield


Physically settled


---
Established: February 2021
Minimum investment: $25,000
Unit issuance: Daily
---
Academy
Magnet distributes monthly thought pieces and deep-dive research to ensure our investors are at the cutting edge of developments in the digital economy
Featured Research
Ethereum - Crypto's Infrastructure
Ethereum is the core infrastructure enabling the creation and operation of decentralised applications and digital assets.

Ethereum allows protocols to leverage the benefits of blockchain technology, without needing to construct their own globally distributed network of ledger hosts and validators.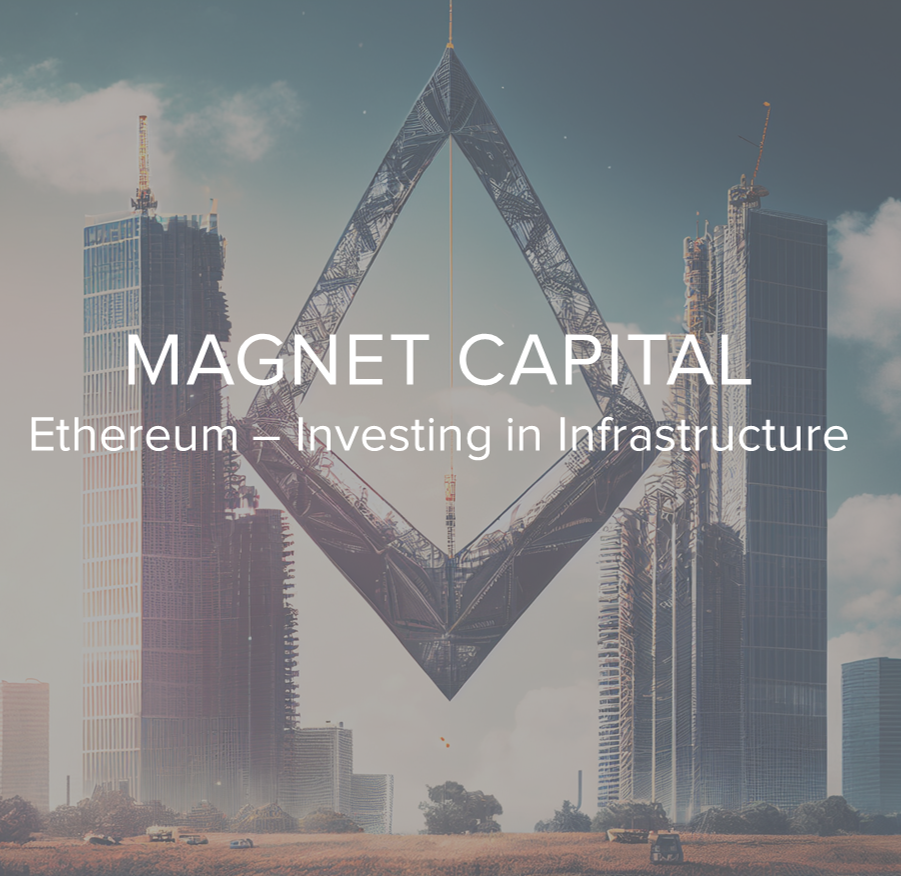 Sign up to our weekly newsletter


A snapshot of the market, key news headlines, project updates, fund raising events and insightful, data-driven metrics.